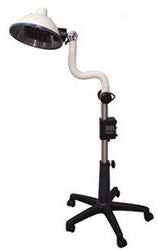 SkyEye Line FIR Radiator Far-infrared Lamp
SkyEye FIR Radiator is the only professional greater power far infrared lamp in the market, which has been extensively used by clinics and hospitals around the world. SkyEye FIR Radiator is also known as WoundCarePro-3000 in overseas markets.
Features
4-14 micron wavelength of far infrared rays

Deep penetration

Low heat, high efficiency

No dry skin or skin burn as stated

Direct shine without taking-clothes-off hassle

No pre-heating required

High power output up to 800 Watts while most others deliver 150 – 300 Watts.

Patented automatic temperature control

Applying advanced technology of ceramic semiconductor heater to prevents the device from overheat

Long-lasting (min.10,000 hours) and very durable

15 minutes only per treatment

360-degree rotation head for every angel shining

CE Mark & ETL

1 Year unconditional manufacture warranty
Imported, Made in Taiwan.
See User's Manual before use.