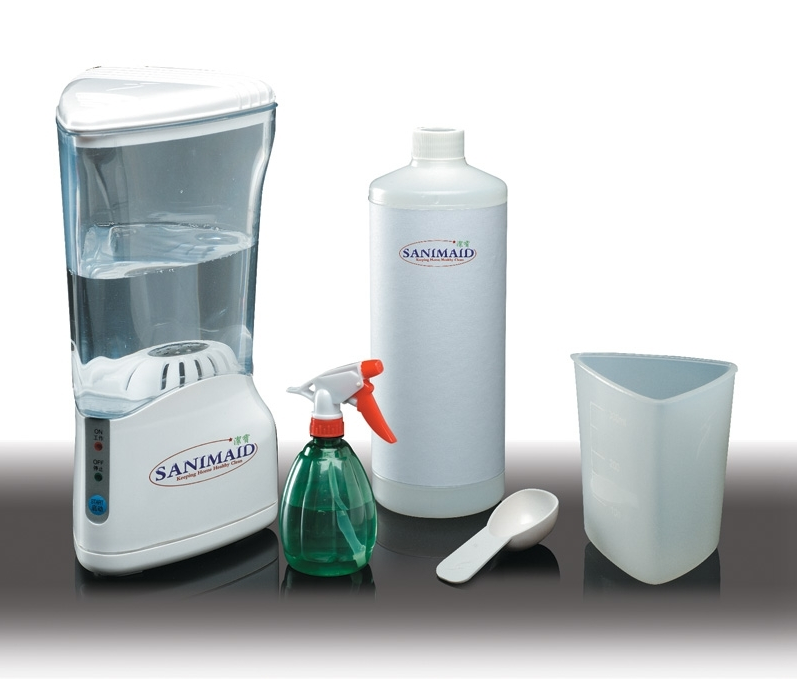 SaniMaid - A Hi-Tech Cleaning Product
Keeping Homes & Offices Healthily Clean. Go Green, Go Ozonated Water
The SaniMaid is a simple to use hi-tech sanitary product that uses salt to easily produce Javell Water (NACIO) within minutes in your home or office. Javell is the mild, ozonated water that is widely used in Japan, S. Korea and throughout Asia. The SaniMaid sterilizes, disinfects, deodorizes and kills germs on a wide range of items such as kitchen utensils, bathroom floors, toilets, sinks, refrigerators, and countertops. It is widely used to clean and kills germs on varieties of suction cupping including glass or plastic cups.
SaniMaid can also be used to clean and remove chemical residues from fruits, vegetables, meat and fish helping to keep them fresh for a longer period of time.
The SaniMaid will help reduce and eliminate germs, bacteria, and viruses in 2-10 minutes. It has also been successfully used in Japan, S. Korean and Hong Kong as a disinfectant on both humans and animals for such conditions as athletes' foot, itching skin and minor infections.
Just fill the SaniMaid with tap water and add regular table salt according to the instructions included. Once the solution is made, you can pour the solution in the included storage container and add as needed in the included spray bottle. Just spray onto the area you wish to disinfect or pour into a bowl to clean your fruits and vegetables.
Approved for use in hospitals, public places, and homes by the foreign Department of Health, the SaniMaid is an ideal addition for every office and family who wish to have a germ free environment.
Technical Data:
Voltage: 110V, 60 Hz
Working voltage: DC 7V
Power: 12W
Volume: 500 ml
Javell water delivery time: 20 minutes
No water filters required to change
Sanitation efficiency: 99%
Accessories include measuring cup, spoon, Javelle water (NaClO) storage bottle and a spray bottle.
Features:
Simple, safe and convenient to use
Clean, harmless and no side effect
Low cost and great performance (a few pennies a day)
Wide application and extensive usage
Environmentally hygienic
Product Guarantee & Warranty:
Long life span of 12 years
6 Month Manufacture Warranty
15 Reasons Why You Should Use SaniMaid Daily!
1. Put vegetables or fruits in a bowl for 3-5 minutes, and Javell water will remove chemical residues up to 95%. Keep them fresh and sterile.
2. SaniMaid cleans the cooking boards, countertops, and tabletops to keep bacteria, odor, and filth away.
3. Removes the stains from teacups, teapots, coffee mugs as well as teeth.
4. Sterilizes baby nursing nipples, milk bottles, and toys.
5. Sprays away nasty odor from refrigerators.
6. Wipes out dirt and sterilizes telephone handsets, surfaces of electronic appliances and tanks of water coolers.
7. Spray to deodorize bathrooms.
8. Kills germs, bacteria and sterilizes pets and pet houses.
9. Stops bleeding and disinfect. Relieves itching skins, fungus, athlete's foot, and itchy foot.
10. Wash bleaches and sterilizes underwear.
11. Terminates germs and itching skins when take shower.
12. Protects teeth from bleeding and tooth infections.
13. Spray in office or home to maintain a fresh and healthy environment.
14. Spray in wet and damp areas to prevents mosquitoes from rebirth.
15. Drives away flies and ants with sprays and wipe-out.