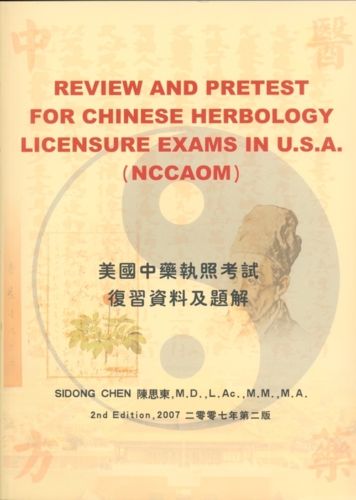 Review and Pretest for Chinese Herbology Licensure Exams in U.S.A. - 2nd Edition
Published in 2007, this book covers the essential topics required in the herbology licensure examinations which includes 63 formulas and 231 herbs for California Board exam. There are 1524 board-like comprehensive questions, 550 important tables and figures for the differentiation of herbs and formulas, and basic concepts of TCM theory.
This book also serves as a companion work to the author's "Review and Pretest for Acupuncture Licensure exams in USA" and "Review and Pretest for NCCAOM exam in Biomedicine".
These three books have helped thousands of students around the world pass the NCCAOM exams and the exams in California, New Mexico, Nevada, Florida, and Canada since 1995.
The author promises a new edition every three to four years.