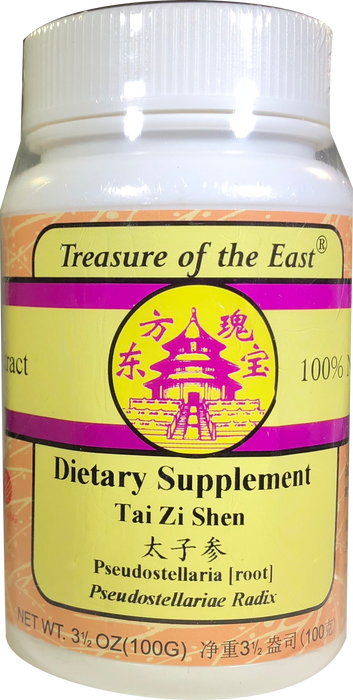 Pseudostellaria Root (Tai Zi Shen)
Latin Name: Pseudostellariae Radix
Treasure of the East brand of herbal extracts features:
Patented Extraction Methods: Total of 15 patents utilize a new generation of technology, producing granules that dissolve better than other brands

Only purified water is used to replicate a traditional decoction.

Evaporated at low temperature vacuum concentration to allow for maximum concentration without damage to delicate constituents.

Complete capture and re-introduction of volatile oils to maximize flavor and efficacy. 

Spray drying maintains a consistent standard of freshness, color, texture, taste and water content of the herbal extracts. 

Dry granulation allows for the herbal granules to maintain the genuine properties and natural balance of the original ingredients.
Manufactured under strict conditions:
Extensive GAP
Good manufacturing certified plant
Comprehensively tested for potency, authenticity, contaminants, heavy metals and pesticide residues.
Finger print identification of all botanical ingredient
5:1 herb concentration ratio
Net weight of 3 1/2 OZ (100 grams)
Product of China