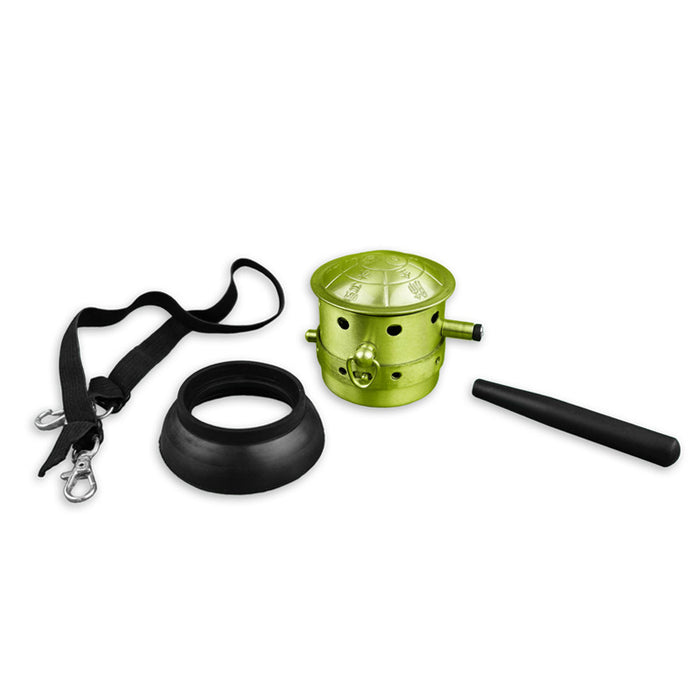 Fire Dragon Brass Moxa Burner with Strap and Handle
Originated from the ancient China, many centuries ago, this Fire Dragon Moxa Burner was said to be used by the emperors and their royal family members. As time went along, it became known and popular among the Chinese people.
The kit is made of solid brass, everlasting and ideal for moxibustion year round.
Product Features
Solid brass body from inside to outside
Double layers of tanks with little holes for better fire combustion
Metal screen installed securely at the bottom of the kit to prevent fire or ash from penetration and potential burn
3" long sturdy handle for easy and accurate aiming and placement during moxibustion
2 solid brass ear-drop handles neatly equipped for convenient positioning and secure fastening by 1 elastic strap of 2' length with 2 stainless steel clamps at both end
2" diameter and 1" high, strong impact rubber base engineered deliberately to prevent from excessive heat and possible burn throughout moxibustion
Gracefully hand-carved Chinese calligraphy carrying the meaning of "Water, Fire, Earth, Wood, Metal" inside the rink; and Heart, Liver, Kidney, Lung, Gallbladder" outside the rink. A distinctive Ying Yang logo is center carved for a true demonstration of the spirit of Traditional Chinese Medicine.
About the Manufacturer
Sorry, we do not have information available for this item yet.