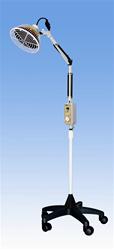 Digital TDP Lamp, Large Head without tick sound – Clinic and Hospital Use – CPT Code 97026
Different from the conventional infrared lamp and microwave therapeutic device, the double-headed TDP Floor Lamp features a round plate coated with a proprietary mineral formation consisting of 33 essential elements. When activated by a built-in electric heating element, this mineral plate emits a special band of electromagnetic waves ranging from 2 to 25(microns) in wavelength and 28 to 34 mw/sq.cm in intensity.
You may use the CPT code 97026 to claim infrared lamp to insurance company for reimbursement.