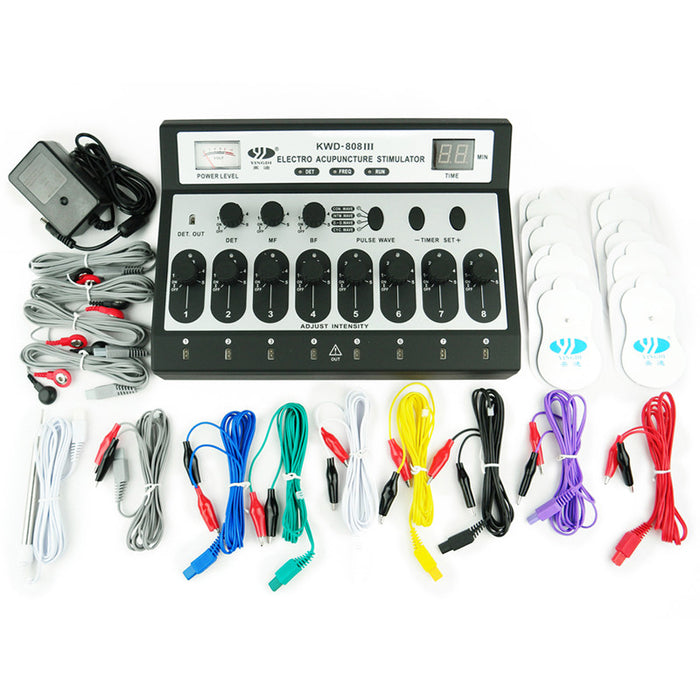 The 8 Channel Acu Machine - Best Electro Acupuncture Stimulator & TENS Therapy Device
This Multi-Purpose Health Device has 8 Channels for Electro Acupuncture Stimulation. Best known as the "ACU MACHINE", this unit is widely used by acupuncturists, massage therapists, chiropractors and medical doctors. This device is equipped with a sound indicator and LED waveform readout, digital timer, power voltmeter and certified safety plugs.
Main Features
8 Independent Output Channels
4 Waveforms: Continuous, Intermittent, Dense-Disperse, Cyclic Wave
Specialties
Manual frequency knob and adjustable frequency knob engineered to prevent the device from sudden surge of electric shock.
High quality UL electrical components.
Included inside the package
1 Acupoint and Median Detecting Probe
8 Wires with 16 Alligator Clips
4 Wires with 8 Clips for Self-adhesive Patches
4 Self-adhesive Patches
User Manual
A/C adapter for both 110V & 220V worldwide use
Dimension: 11 L x 8 W x 3.0 inches H Weight: 6 Lbs
About the Manufacturer
One of the most recognized and reliable name brands among electroacupuncture stimulators in Mainland China, Yingdi meets the highest international medical industry standards for safety and with CE, 510K, IEC and GB National certificates.